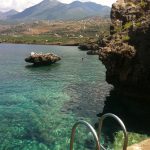 Yoga Holiday in Greece
With Sunnah Rose
Sat 22nd – Sat 29th June, 2024
This special holiday is being run by Sunnah Rose in the Mani, one of the most untouched and stunningly beautiful parts of the Greek Mainland. Enjoy a pristine natural environment of mountains, sea and blue skies in which you can relax and unwind as well as learn and practice yoga.
The yoga classes will be held at the Spirit of Life Centre www.thespiritoflife.co.uk and will start on Sunday morning after your Saturday arrival, and end Friday evening before you leave the next day.
Daily practices will guide you through a variety of styles, including gentle yoga to allow you to journey deeply into the body and a more dynamic Vinyasa yoga to strengthen and dance your way through a class. No experience is necessary and all are welcome, including complete beginners.
There will be a morning and evening session every day, apart from one day off mid-week in which you can go exploring without any pressure. The morning sessions will be followed by a lovely brunch and two evening meals will be included in the price, days to be confirmed. All meals are prepared by Kirakos the owner of spirit of life who ran a successful restaurant in Bristol before moving with his family to the Mani.
Accommodation
The accommodation is comprised of self-catering apartments and shared villas within walking or cycling distance of the studio. Most of the accommodation is based in the beautiful small village of Agios Nikolaos which has a few traditional taverna's where you can feast on amazing local food and an amazing sea pool known by the locals as 'Gnospi'.
Things to do
Apart from the yoga and the swimming pool there are lots of other things to do. There are many walks to explore the area both in the mountains and along the coast. The nearest swimming point is 'The Jetty' also known as Gnospi, which is a 15 minute walk from the studio. It has a natural swimming platform that drops into beautiful turquoise waters as well as shaded areas for sun worshippers to soak in the rays.
The beach is located beyond the village of Agios Nikolaos which is another 20 minute walk down the mountain. If you are feeling a little more adventurous then a little further down the coast are Stoupa Beach and Kalogroa beach, which are vibrant and cater for the tourists. They are both sandy and have lovely bars and restaurants where you can enjoy a drink, lunch or dinner. If you don't feel like walking back up the mountain – a taxi costs around 10/15 Euros.
Costs
Early Bird Price if booked by end of Jan 2024
£695 if sharing (£200 Single Supplement)
Full Price
£745 if sharing (£200 Single Supplement)
Included in the price
2 daily classes of Yoga
Accommodation ( Single supplement is £200)
Brunch every day apart from day off
Two Dinners
Family Friendly
This is a family friendly retreat so if you have family, partners or friends that would like to come along and stay in the accommodation and share in the food, but not take part in the yoga please do let me know as there are special reduced prices for them.
To book
£200 non refundable deposit plus final amount paid two week before retreat starts.
Please contact Sunnah:
Tel: 07941 321 772
E-mail: sunnahrose@hotmail.com
Cancellation Policy
£200 of your payment is a non – refundable deposit.
Unfortunately any cancellation 14 days prior to the retreat is fully non refundable.
Getting there
Please do feel free to contact me if you need any help with travel arrangements.
Fly direct to Kalamata:
There are regular routes from London including direct flights with Easyjet and British Airways on Saturdays.
There are also flight with Thomas Cook that arrive midday on Sunday, so you would miss the first morning session but be in time for the evening session.
There are also flights from other UK based airports and European destinations. For the best deals visit www.skyscanner.net
Once at Kalamata airport a taxi can be arranged for 70 Euro's. If a few of you are taking this route then that cost can be shared.
*There are also Sunday flight options which would mean that you missed the Sunday morning session but we would be able to accommodate you for the full 7 nights if this is your preference*
Fly to Athens:
There are regular daily flights from the UK and Europe to Athens El Venizelos Airport. There are many routes to Athens from Europe. Easyjet offer cheap flights to Athens from Gatwick if booked in advance. British Airways , Aegean Airlines, KLM airlines and Thomas Cook also have flights to Athens. Olympic airlines offer flights from Manchester and London. Also try www.charterflights.co.uk . Again book early to secure best prices.
Athens Airport information: El. Venizelos , tel: +003 010 3530000
From Athens to Kalamata
A taxi pickup can be arranged for you on your arrival from Athens airport direct to the Spirit of Life Centre. These are shared taxi's but are very reliable and will bring you straight to the door. The cost for this is approx 70 Euros per person depending on how many people are in it. This journey is about 4 hours.
You can catch a coach to Kalamata from Athens Bus station.Catch the X93 bus from the airport to Athens Kifissos coach station. There are coaches every hour from Kifissos coach station to Kalamata.
Once in Kalamata you can catch another bus that will bring you to the Spirit of Life Centre or catch a taxi. The taxi costs 60 euros. If there are a few of you taking this route it can be shared.
Cancellation Policy
Cancellation Policy
£200 of your payment is a non – refundable deposit. Any cancellations up until 4 weeks before the event will be fully refunded minus the deposit.
Your full payment is due 30 days before the retreat start date. Unfortunately any cancellations after this point are fully non refundable.
If the retreat or event is cancelled by the organiser:
If we need to cancel a trip or training for our own reasons, or due to COVID TRAVEL RESTRICTIONS, we will refund all deposits and payments in full (minus £25 admin fee). We cannot however compensate you for airfare or travel costs. In the unlikely event that the retreat or event is cancelled due to weather, natural disaster or political upheaval, we cannot guarantee a refund – it will be dependent on receiving a refund from the venue / tour operator we work with. To cover these eventualities, we highly recommend you purchase travel insurance.
Travel Insurance:
It is highly recommended to purchase travel insurance. Travel Insurance can protect you financially and offer peace of mind in case:
• you cancel your participation in the retreat or event
• retreat or event is cancelled due to weather, natural disaster
• lost baggage
• medical expenses and the cost of repatriation should you become ill or injured