3rd,4th, 10th & 11th June
(plus assessment day 4th July)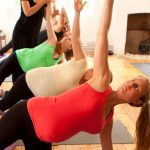 This training has been created by three London based Pregnancy Yoga Teachers, Sunnah Rose, Lulu Winfield and Deanne Liew who between them having been working with pregnant women for over 50 years.
This course has been designed to give Yoga Teachers the skills and knowledge to teach pregnant women safely and with confidence.
Just some of the topics covered in the course are
Asana and Movement for the 2nd and 3rd Trimester
Postures to strengthen the body and modifications to accommodate and alleviate common symptoms
Breath for relaxation during pregnancy and techniques for labour
Anatomy and physiology of Pregnancy, Labour and Birth

How to guide pregnant women in working intuitively and safely with their changing bodies.

Use of props and adjustments.

Do's and don'ts and contra-indications.

Postures and movement to encourage optimal foetal positioning.

Anatomy and physiology of the pelvis and pelvic floor muscles.  How  to teach these exercises effectively. 

Anatomy and physiology of pregnancy, labour and birth. 

Class sequencing.
……..and so much more
Cost: £650
Venue: Online
For more information on the teachers, the course or if you would like to apply then visit www.loveyogatraining.com
We look forward to meeting you soon.